Shopping for baby clothes is the fun part for new parents, they want to buy the cutest clothes for their bundle of joy. Apart from cuteness, there are many other things you need to consider to save your child from potential danger caused by unsafe baby clothes. SIDS (Sudden Infant Death Syndrome), Skin allergy, eczema, choking hazard, restlessness, bad odor, suffocation are all leading side effects of wearing synthetic or inappropriate baby clothes. In this article, we are gonna tell you that
What material is best for baby clothes

How to select the appropriate size for newborn

How many baby clothes do you need to buy

What color to select for newborn

How to organize baby clothes
Suitable Fabric for newborn babies
While shopping for clothes for a newborn baby, obviously you consider the season. In summer usually, you will find baby clothes in a lightweight material like cotton, linen, etc but in winters there are abundant baby clothes that are made of synthetic material (polyester, nylon, rayon). So take special attention to buy clothes for baby expecting in the winter season. Organic clothes come from natural fibers of organically grown cotton, soy, flax, and bamboo plants without using GMOs.
Many parents are especially concerned about the baby's health by avoiding chemicals from the early age of a baby's life due to the risk of cancer as well. The carbon footprint of sustainable farming methods is also low, which in turn benefits the environment at large. Instead of buying a pile of cheap synthetic clothes, invest in few organic clothes that are safe for your baby and help protect the environment as well. 
Size Guide for Baby Clothes
Babies come in all sizes in terms of weight and height. Baby clothes are available in preemie (clothes for premature babies) to zero sizes to 2 years old babies. Most babies come in 8 pounds at the ninth month, so size 0 is the perfect fit for most of the babies. Do not buy too many clothes in size zero. Because baby wears it only for few weeks.
Also, consider the season while shopping. In winter, you may need roomier pieces of clothes for layering. Each brand offers different sizes of the same age group. Some offer roomier baby clothes for a healthy baby, and some offer slim clothes for the same age group. You can see the baby clothing size chart to understand the right size to buy the appropriate size of baby clothes for your upcoming baby according to the growing weight and height up to 24 months. 
If you are not sure of the weight of your upcoming newborn, mix and match different brands to select the clothes, and after 2 months, so buy according to the weight and height of your baby. Babies grow fast, and they can not remain in the same clothes for more than a few months, so do not buy in bulk. You may also get some clothes in the baby shower as gifts. Do not remove the tags and packing of new clothes. In case it gets small, you can exchange it for a bigger one. 
Checklist of Baby Clothes
It is wise to buy separate clothes for day and night. The first priority for the baby clothes is to have the characteristics of natural fiber, breathability, and comfort to out on and off. The bodysuit is the most convenient option to keep your baby's skin safe from irritating fabric like wool or muslin in winters. The bodysuit is the first layer in winter, and even in summer, it is the best option to put on a bodysuit. According to season, you can buy full sleeves or sleeveless bodysuits. But while washing bodysuits, the neckline of clothes gets wider. Do not buy clothes with loose buttons, a detachable zip, or other embellishments which the baby can easily pull out. Moreover, front opening zip or buttons or ties can cause discomfort while sleeping. So baby kimono is a great option for babies due to having a side snap that saves the baby's stomach and umbilical cord to press against snap. The kimono is easy to put on and off as well. 
Footies are good while sleeping during winters to keep your baby's feet warm. Beanie-style caps are essential for newborn babies even in the summer season. Socks are an essential part of baby articles of clothing, especially in winters. You can buy the same color of baby socks to avoid the hassle of matching pairs. Swaddles are not clothes buy babies stay in swaddled most of the time. It is essential to buy organic fiber swaddle to avoid overheating or suffocation or skin irritation.  To avoid over-dressing your baby you can put on a baby gown or sleepers to keep the baby's hands and feet warm during the night. See the checklist of clothes you need to buy for newborns.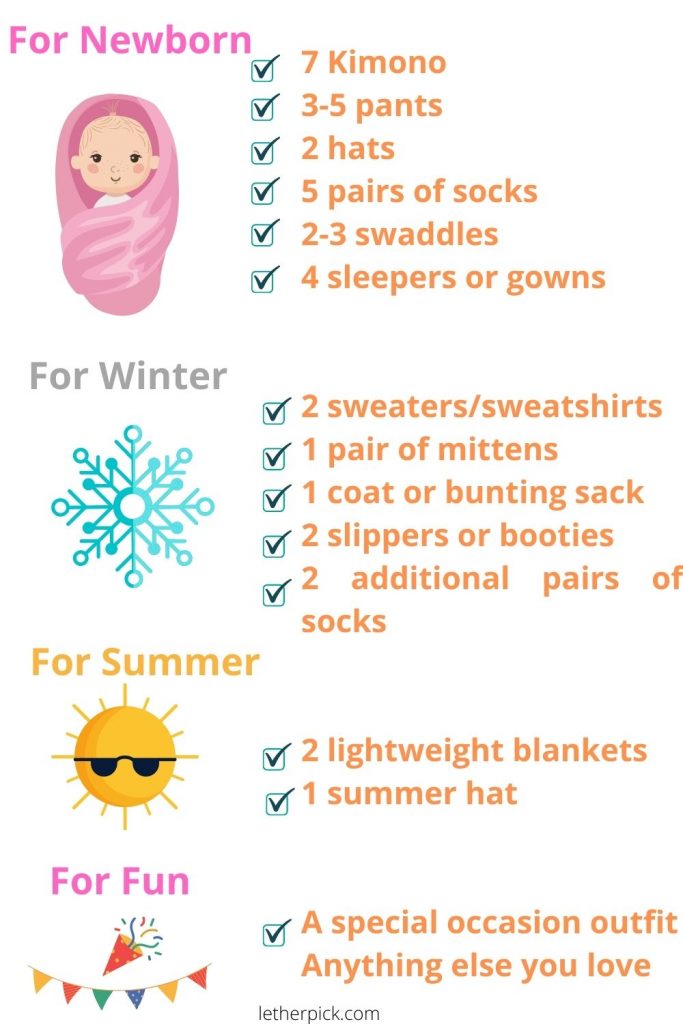 Suitable Color of Baby clothing
Everyone knows about gender-specific colors like pink for baby girls and blue for baby boys. There are bright color clothes with funky designs for baby clothes in the market. Fluorescent agents are used to making bright color baby clothes. So avoid bright colors and select baby-friendly light colors. You can use light color clothes in the daytime and dark color in the nighttime as well. It is also wise not to stick to gender-specific colors. Neutral colors like greens and yellows can be used for your next baby. According to Dr. Sears Wellness Institute, black and white clothes helps in the brain development of the baby and make them smarter by stimulating brain growth and aid in visual development.
Organizing Baby clothes
Organizing baby clothes by size is a good idea. If you have draws, then placing a draw divider help in organizing baby clothes easily. You can place bigger sizes in the previous section and keep zero-size clothes in the front section of a drawer. These dividers help organize small bibs, socks, and booties as well. If you don't have drawers and you are planning to set up a nursery, then a kid's closet is a great investment, and you can use that closet for up to 10 to 15 years. You can hang clothes, keep baskets and fabric dividers in that closet to organize different baby items. 
Where to Buy Baby Clothes? 
You can select any brand that is offering an organic baby clothing line but make sure you buy clothes made from cotton, soy, flax, or bamboo to ensure your baby's safety. And these organic clothes should be affordable too. Also, be realistic while shopping for a newborn. Don't overdo it. Having a baby means expecting a lot of future expenses. If you spend rationally you can provide your baby with quality clothing step by step as the baby grows without feeling any financial strain. 
Author Bio
She has been analyst, beauty expert, mom of 2, cook, teacher, content writer, and a reviewer with a passion to have a smart home with her husband. She often tests new things and gadgets that come into the market with the help of her team to review items. When she's not at her computer, you can find her at her kitchen, busy with 2 kids, or maybe on Pinterest @xadiacashif where she likes to share about her lifestyle and work. Alternatively, try her email at xadcash@gmail.com, and she'll probably shoot you back a list of her favorite and latest gizmos.