Messenger bags for traveling have more space than common backpacks or laptop bags. Move-in style while you are on a small vacation or going for a business trip with modern-looking traveling bags. Let the suitcase mind your clothes while traveling and keep your gadgets close in our selected traveling bag. Most of our selected traveling bags are less-structured than the suitcase and can be folded flat for storage. Everyone has a different lifestyle and require specific features according to the purpose of traveling. Here is a quick review of Top 5 picks of the best messenger bags for different traveling purposes.
In a Hurry? Have a Quick Review
Top 5 Picks
Best Feature
Price
Compact Size
Sling Bag
Large size
Convertible
Backpack
XLarge
more
Pockets
For Cycling
Backpack
For Camera
Vintage Style
Top 5 Best Messenger Bag for Traveling Review
The best messenger bag for traveling has more pockets and a comfortable strap to carry the bag for a long time. Leave your heavy luggage in the hotel and move on with your essentials including laptop, camera, water bottle, chargers, wallet, few cloths in these traveling bags. Make your trip comfortable with a stylish and appropriate messenger bag for traveling.
Best Messenger Bag for travel
Best messenger bag
for travel (Compact)
Best messenger bag
for travel (larger)
Most durable messenger bag more pockets (XL)
Best messenger bag for cycling
Best messenger bag for camera
Sold By
Leaper
CoolBELL
Lifewit
KAUKKO
Kattee
Image
Bag type
Travel Rucksack
Sling bag
Convertible
Backpack
Multi function
Tactical Briefcase
Backpack Hiking Camping Cycling
Convertible
Camera Bag
Material
Canvas
Oxford cloth
nylon
Canvas
Canvas
Color
army green
Grey
Black
Black
Blue
Adjustable strap
Yes
Padded shoulder
Yes
Padded shoulder
Yes
Padded shoulder
Yes
Padded shoulder
Yes
Padded shoulder
Lining
Nylon
Polyester
Soft cotton
Soft cotton
Soft cotton
Closure
Buckle closure
Zipper
Zipper
Buckle closure
Zip falpover
Dimension
10.2x13.6x4.4
18.8 x 5.1 x 13.7
16.5x1x12.5
18.5 x 6.69 x 10.63
12.5 x H 20x W 7.5
Price
Top 5 Best Messenger Bag for Travelling Comparison Table
Leaper Retro Messenger Bag Review
Vertical messenger bag for travel (Compact)
If you love to go hiking then Leaper Retro messenger travel rucksack can be the best option to keep your accessories organized and safe. Army green color Leaper bag is made of washed canvas material with PU leather fixtures. We love the incredible design and durability of this messenger bag. Either you can carry it as a sling bag or backpack according to your style and convenience. The padded shoulder strap is comfortable to carry the bag for a long time without any problem.
The Leaper messenger bag for the traveling bag has magnetic snap flap closure for better and fast practice. There are multi-purpose pockets of different sizes. Most of the pockets have a zipper to keep your belongings safe and intact. The side pocket is perfect for a water bottle or umbrella. Leaper messenger bag is an unconventional travel sling bag and its design and material make it perfect for outdoor use. You can have this #1 best seller messenger bag for traveling on Amazon under $35.
What I Like
Washed canvas material and soft nylon inner lining.
Sturdy and very durable bag.
Great product for a reasonable price.
Strong magnetic snap buckle.
Different pockets to stay organized.
3 ways to carry the bag: sling bag, shoulder, and carry handle.
Perfect strap to carry the bag across the body.
Adjustable and padded strap up to 41 inches.
Front pocket with zipper for fast access.
Side pocket for a bottle.
Lightweight  710g.
Ageless design.
#1 best seller messenger bag on Amazon.
Compact size with lots of space.
Can be a perfect gift for college students
What I don't Like
Flimsy mesh has been used for side pockets.
CoolBELL Convertible Backpack Messenger Bag  (Grey) Review
Convertible Backpack messenger bag for travel (larger)
No more waiting for the luggage at the airport when you have all your stuff in your hand carry. If you stay out of the station frequently for 2 to 3 days then you need a bag with enough capacity to keep a few clothes with a laptop and other small stuff. CoolBELL has come up with the idea of a convertible messenger travel bag to meet all your prerequisites. Well, stitched oxford cloth bag has genuine leather bag fixtures in this bag.
CoolBELL convertible bag has 6 outer pockets with zippers. There are two major sections of the bag: one for 17.3 inches laptop with special Telescopic belt for safe transportation and the second  section to keep clothes or documents in it. Use this bag as a backpack bag, or tuck the strap inside if you want to move with it as a messenger bag. The carry handle option is always there to use CoolBELL bag as a briefcase. Enjoy all looks in one bag.
What I Like
Best 3 in 1 convertible bag.
Adjustable and removable padded shoulder strap.
 Oxford cloth material.
Sturdy fixtures.
Spacious yet compact traveling bag.
Genuine leather decorations.
Capacity to possess 17.3 laptops.
Various zipper pockets to stay organized.
The main compartment have two slip pockets and 2 pen sleeves.
Can be used for traveling or short trips.
Inner waterproof polyester lining.
Smooth zippers.
1.2 kg of weight.
What I don't Like
Lifewit 17 inch Men's Military Laptop Messenger Bag Black Review
A most durable messenger bag( extra large with more pockets)
Lifewit black is a perfect and most durable bag traveling bag. This bag is made of water-resistant nylon so you can carry it for outdoor trips. Lifewit bag has a capacity to possess a 17-inch laptop in its main compartment. There is additional padding for safe and intact transportation of laptops. We like two small and one extra-large zipper pocket with a clasp on it. you can use this large pocket to keep small coffee flask intact. If you are looking for a leather messenger bag you can view our review about Best Messenger Bag for Men 2020
The innovative design of Lifewit traveling bag is a practical and spacious bag with lot of capacity to hold a laptop with clothes and other on the go accessories. Unisex design is equally useful for ladies and men. Busy traveling ladies can keep their handbags in this tactical bag and move around care-free. Mark your statement with Lifewit messenger traveling bag. Highly recommended bag for its sturdy construction and design.
What I Like
Perfect tactical traveling.
Robust manufacturing with nylon material.
Water-resistant stuff.
17-inch laptop capacity.
Built-in keychain in the pocket.
Padded compartment for laptop.
Numerous pockets for a different size.
Dual carry handles.
Double zip lock system.
Spacious and versatile bag.
Padded honeycomb shoulder strap.to carry.
What I don't Like
Bottom of the laptop sleeve is not padded.
KAUKKO Laptop Outdoor Backpack Travel Review
Best messenger bag for cycling
KAUKKO messenger bag is the best traveling rucksack for bikers and cyclists for its casual look. This bag has an incredible look so college students can also carry it proudly. KAUKKO laptop can carry 15.6 inches laptop it. The stylish backpack has incredible and comfortable air contoured shoulder straps. So cyclist can go along  with this bag by keeping all accessories in KAUKKO bag all day long without any trouble
KAUKKO travel messenger backpack is made of high-quality water repellent 600D polyester fabric. Casual and simple design with leather stripes gives this bag a timeless exterior. Drawstring and magnetic closure clasps for secure closure. This bag has enough space to hold all accessories for 3 to 4-day short trip or hiking expedition. There are two side pockets and front zipper pocket for easy and fast access to mobile, wallet, pens or keys.
What I Like
Perfect backpack for cyclists and college students.
High-quality sturdy polyester fabric.
Durable bag with quality inner nylon lining.
Water repellent material.
Easily adjustable and padded shoulder straps.
Separate space for a 15.6-inch laptop.
Magnetic snap buttons for the outer pocket.
2 side pockets can carry a standard size water bottle.
Drawstring and flap over for safety of the content.
User-friendly customer services.
Exchange or refund offered within 60 days in case of any complaint.
What I don't Like
There must be a zipper closure of the main compartment
Kattee Leather Canvas Camera Bag Review
Best messenger bag for camera
Are you passionate about photography and but want your precious camera safe while you go for outdoor shoots? Kattee has come up with a specially designed bag for DSLR/SLR camera bag. This canvas bag will give you a perfect professional photographer look with ease of access to memory cards, CDs or power banks, and cables in this bag.
There is a padded inner divider that you can adjust according to your camera size and keep it safe for jerks while traveling. And soft lining will keep the camera and its accessories scratch-free.  If you want a waterproof camera bag then the Evecase Messenger bag is also a great option. We like Kattee canvas bags for their utility and simple design. Although there are many other options of camera bags with much higher prices while you can have this US registered trademark bag at an affordable price.
What I Like
High-quality thick canvas bag with cotton lining.
Padded divider for camera and lens.
Compatible design with DSLR / SLR cameras.
Adjustable and padded shoulder strap.
Leather finishing buckles with magnetic buttons.
Outer pockets for CDs, memory cards or mobile.
Two side pockets.
Can be used as casual bag without inner divider.
What I don't Like
Bag becomes too floppy without the inner tank
The side pockets close with the belt loop.
Buyer Guide for Messenger Bag for Travelling
Look for the appropriate material i.e. canvas, leather or nylon fabric according to your need.
A messenger bag with more pockets is practical and essential to stay organized.
Waterproof bags save your costly electronics during traveling.
Closure type also matters to avoid a slip or wear tear of items.
Check for lining material according to your specific items in the bag.
If you want to take your laptop while traveling then choose a messenger bag according to laptop size with proper padding.
Messenger travel bags with dual or more carry styles offer more convenience.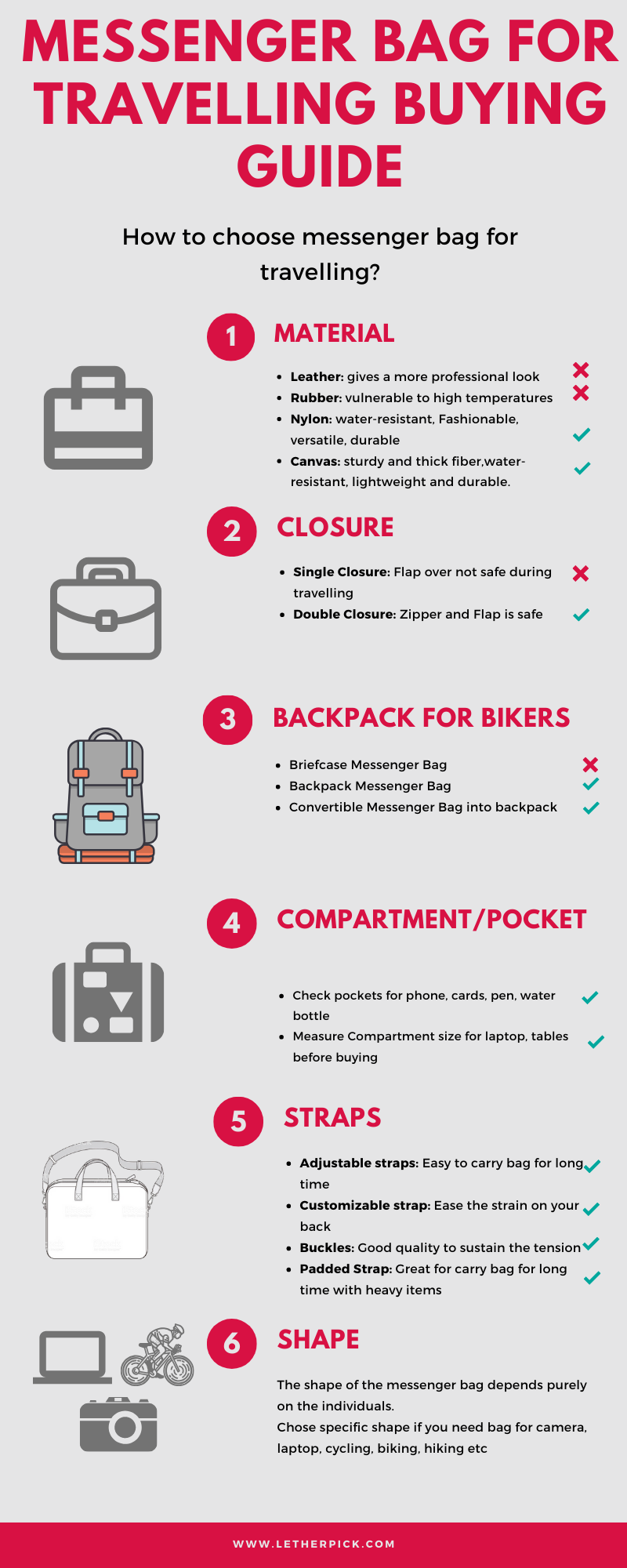 Author Bio
She has been analyst, beauty expert, mom of 2, cook, teacher, content writer, and a reviewer with a passion to have a smart home with her husband. She often tests new things and gadgets that come into the market with the help of her team to review items. When she's not at her computer, you can find her at her kitchen, busy with 2 kids, or maybe on Pinterest @xadiacashif where she likes to share about her lifestyle and work. Alternatively, try her email at xadcash@gmail.com, and she'll probably shoot you back a list of her favorite and latest gizmos.