Gender reveal parties have become a popular way for expectant parents to share the excitement of their upcoming addition with friends and family. One crucial element of any gender reveal party is the invitation. This article explores five unique themes for classic blue and pink gender reveal invitations, ensuring your celebration starts off on the right foot. There are some some trending and fun pink or blue gender reveal invitation with complimenting other party items that may be fun for new parents to be. You can use these gender reveal templates to personalize with your details and impress your friends and relatives for your good taste and aesthetic sense.
What's the Scoop Ice Cream Gender Reveal Invitations Theme
Nothing says fun and anticipation like an ice cream-themed gender reveal. The invitation could feature a whimsical ice cream cone with swirls of pink and blue, inviting guests to guess the flavor of the day. Incorporating pastel shades and sprinkles into the design creates a delightful, playful vibe that sets the stage for a sweet celebration.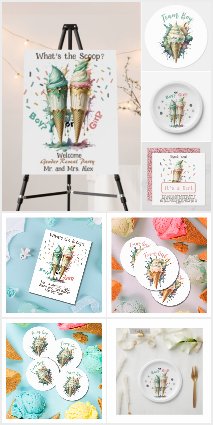 Ice Cream What's the Scoop Gender Reveal Party
 2. Here Comes the Son -Sun Gender Reveal Invitations Theme
For a bright and sunny gender reveal party, consider a "Here Comes the Son" theme. Infuse the invitation with warm yellows and bright blues, reminiscent of a sunny day at the beach. A stylized sun with a mischievous grin can add a touch of whimsy, creating an inviting atmosphere for your guests.
Pumpkin Gender Reveal Invitations Theme
If your gender reveal falls around the autumn season, a pumpkin theme can be a charming choice. Picture a rustic invitation adorned with pumpkins, autumn leaves, and a touch of gold or copper for a touch of elegance. This theme brings a cozy and warm feeling to the occasion, making it perfect for celebrating the impending arrival of your little pumpkin.
4. Pink or Blue Christmas Ornament Gender Reveal Invitations Theme
If you're hosting your gender reveal during the winter months, a pink or blue Christmas ornament theme can add a touch of holiday magic to your celebration. Imagine an invitation adorned with delicate ornaments in shades of blue and pink, set against a backdrop of snowy white. This theme not only spreads holiday cheer but also adds a touch of elegance to your event.
Pink or Blue We Can Bearly Wait Bear Gender Reveal Theme
For a cuddly and endearing touch, the "We Can Bearly Wait" theme is perfect. Picture an invitation featuring adorable bears in pink and blue bow, perhaps holding a pink and blue balloons with the big reveal. Soft pastels and gentle bear imagery create an inviting and heartwarming atmosphere.
Fi-she or Fis-He Fish Gender Reveal Theme
For a gender reveal with a splash of aquatic fun, consider the "Fi-she or Fis-He" fish theme. Imagine an invitation adorned with whimsical fish in varying shades of pink and blue, playfully swimming against a watery backdrop. This theme brings a unique and lighthearted touch to your celebration.
Conclusion
Choosing the right invitation sets the tone for your gender reveal party, and these unique themes provide a creative and personalized touch. Whether you opt for the sweetness of ice cream, the warmth of the sun, the coziness of pumpkins, the freshness of strawberries, or the holiday spirit of ornaments, your guests are sure to be excited for the big reveal. With these classic blue and pink gender reveal invitations, you'll kick off your celebration in style and make lasting memories with loved ones.
Author Bio
She has been analyst, beauty expert, mom of 2, cook, teacher, content writer, and a reviewer with a passion to have a smart home with her husband. She often tests new things and gadgets that come into the market with the help of her team to review items. When she's not at her computer, you can find her at her kitchen, busy with 2 kids, or maybe on Pinterest @xadiacashif where she likes to share about her lifestyle and work. Alternatively, try her email at xadcash@gmail.com, and she'll probably shoot you back a list of her favorite and latest gizmos.