One of my friends owns a huge collection of makeup products and accessories. So we consider her as a "makeup expert" within our circle. A few days back I visited her place and she gave me a tour of her vanity. And seriously, I was impressed with her makeup collection because almost all makeup from foundation to makeup brushes were tagged with famous brands and logos. I was thinking to get a new set of makeup brushes so I believed to ask my friend's opinion about the best makeup brushes. I was awestruck to know the sky-high prices of those brushes and left her place with a heavy heart. But later, I get to know the reality that branded makeup brushes were expensive not for their extraordinary quality but for their pompous and unnecessary packaging and logo printed on them.
If I would rely on my "makeup expert " friend's judgment then makeup brushes were more expensive than actual makeup products. But my point is, if you buy substandard makeup and will apply it with branded makeup brush then it will fail to give you the desired result. Then buying cost-effective makeup brushes makes better sense to me. And I found that DUAIU makeup brushes were one of those brushes without compromising on quality. These brushes have a nice design and available in different colors. So cut the crap of flexing and splurging pointlessly on branded expensive makeup brushes.
Why Branded Makeup Brushes Are Expensive?
Expensive makeup brush bristles are made of real hair of small creatures. Every year countless squirrels, sable, pony, goats, and mink are brutally killed for their skin to get their fur. While budget-friendly brushes have synthetic bristles of nylon or polyester with the same silky and soft-to-touch brush heads. By shopping for more cost-effective products you can play your part to save the innocent animals being hunted.
How to Clean Makeup Brushes
Every girl should have her personal makeup brushes to maintain better hygiene. According to dermatologists, unhygienic makeup brushes can cause severe skin allergy problems. As they may provide fertile conditions to bacteria and other micro-organisms due to dirt and makeup buildup in them. It is compulsory to clean them thoroughly once a week. Soak all brushes in lukewarm water with dishwashing soap liquid or baby shampoo then rinse them. Then dip them in 70% alcohol and water mixture for one minute to completely disinfect them. No matter how well-maintain you keep makeup brushes but replace them after 3 months.
Expensive Vs. Cost-Effective Make Brushes
Economical brushes are cruelty-free.
Expensive brushes need high-maintenance and start to lose their bristles after few washes.
Cost-effective brushes are perfect to keep in traveling makeup bags.
Beginners should go for inexpensive brushes rather than investing in branded brushes.
Expensive makeup brushes and logo-less brushes come from the same manufacturers but quality-wise, they are identical.
So ladies, save your bucks by getting in-expensive makeup brushes and learn to spend on the right products. Why spend on branded ones when you are receiving good quality at less price.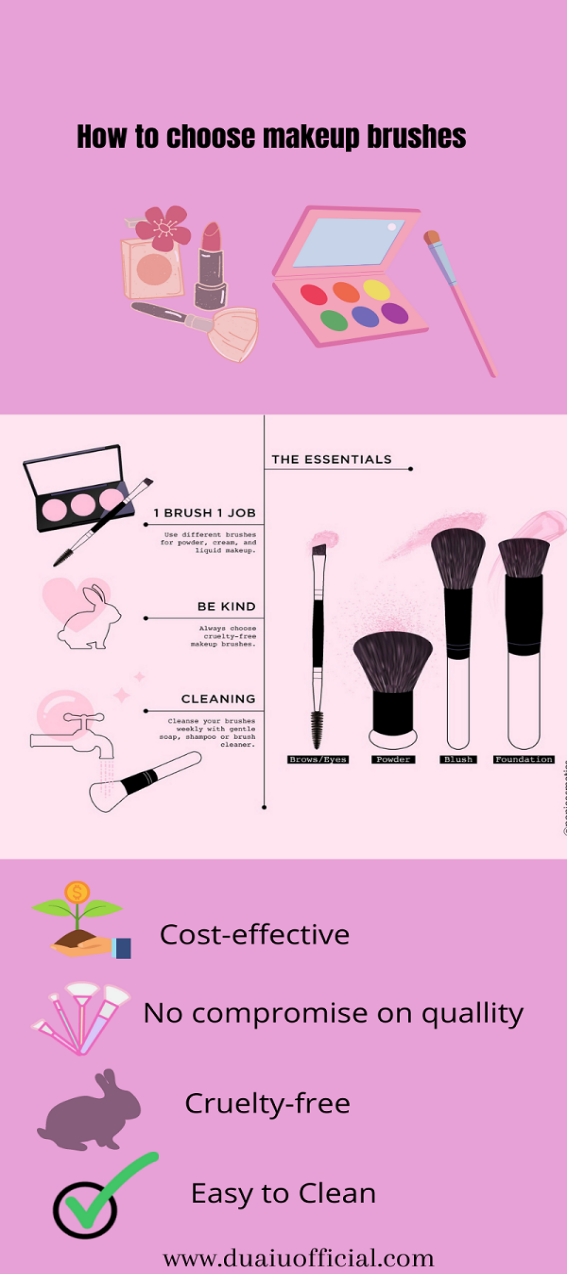 Author Bio
She has been analyst, beauty expert, mom of 2, cook, teacher, content writer, and a reviewer with a passion to have a smart home with her husband. She often tests new things and gadgets that come into the market with the help of her team to review items. When she's not at her computer, you can find her at her kitchen, busy with 2 kids, or maybe on Pinterest @xadiacashif where she likes to share about her lifestyle and work. Alternatively, try her email at xadcash@gmail.com, and she'll probably shoot you back a list of her favorite and latest gizmos.