We welcomed 2020 with hope and new year resolutions but unfortunately, the pandemic in the form of Covid-19 has turned the whole world upside down. This drastic change has disturbed our entire routine. We cannot go out as we are supposed to Quarantine ourselves by staying at home to break the chain of viral infection. Everyone is feeling shattered and low but you can bring positive vibes in this time of depression by staying connected and utilizing this time to spend with your loved ones and family. We know that no one can go out but you can arrange a family activity as a backyard BBQ picnic at your home and cheer up your mood and strengthen the bond with your family members.
There are a few things you must-have for the perfect picnic party to enjoy the summer air. For BBQ you will obviously need a grill and metallic skewers.
Checklist to Prepare a Party in a Home
First, prepare a checklist so that you don't have to rush back to grab things from the house.
Show your artistic nature on the blank canvas of  a cheese board for a perfect start  
Barbeque parties are all about a variety of food in the form of succulent cheese, ham, cold cuts, fruits and nuts. As there is a limited space on a picnic table you can serve at one place on cheese board. Here you can assort all your favorite snacks, bread, crackers, cheese, and fruit chunks on them. Bring the freshness to your picnic table in the form of a Charcuterie board where your family can serve themselves and enjoy and assemble the sandwiches of their own choice. There are cheese boards with extra knife and forks with so you don't have to worry about extra salad plates to keep on the table.
Bring out an Outdoor dinnerware set 
Instead of disposable paper cups and plates serve your family with an unbreakable yet presentable melamine dinnerware set. Bright and funky melamine dishes look great and are perfect to use outside. These unbreakable dishes are practical and can be reused again and again. Most of the outdoor dinnerware sets stack easily and occupies little space on the tabletop. Last but not least, melamine dishes are dishwasher safe so you have to put them in the dishwasher when done with the barbeque session at home.
If you have toddlers in the family then you must keep kids a bamboo dish set for outdoor fun. Let them enjoy this time while you are busy on the grill to prepare fresh steaks for them. Kids bamboo dish sets are convenient as they are light-weight as compared to melamine plates and kids can carry them around with their food easily.
Soft drinks or fresh juice
Prepare some fresh lemonade to beat the heat of summer. You can add some interesting food color or any other fruit to bring a fantasy to your lemonade. Besides fresh juice, you must have a stock of chilled soft drinks when you finally sit to enjoy the main course of this BBQ party.
Involve your kids in Salad 
Preparation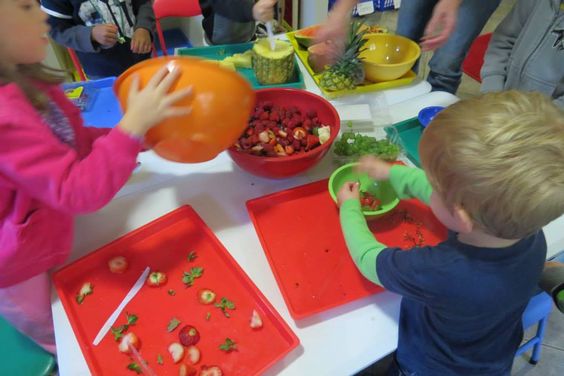 Fresh salad is the perfect partner of barbeque meat. You can involve your kids in this activity while preparing for the party and assign them to prepare the salad from fresh fruits and vegetables. If your teenagers are not used to helping you in the kitchen and then a vegetable slicer and dicer can make this activity more easy and interesting. Give them a free hand to make a salad of their choice. You can ask them to take help from YouTube for the salad idea. Keep this salad in a bamboo salad bowl with a cover to keep it safe from pesky flies.
Arrange Family reunion Games
Involve your family members and kids in a fun activity to de-stress them from monotonous quarantine life. You can arrange sack race for kids, storytelling, or secrets telling game for teenagers, family talent show, play ball, Arrange bubble blowers for toddlers. In this way, you can involve kids, teenagers, and elders in a fun activity to bring them out of depression.
Make Family Album
Take pictures of every moment of this party. Whether it is making BBQ, eating things, playing games. You can save these photos as a memory. And you can also sell these photos on stock images websites if they are taken from DSLR. If you use your brain, you can do fun as well as earn some bucks from this fun activity.
Final Words:
These kinds of family activities allow us to come together and enjoy our near and dear relations of the real world. Staying home is not as bad as most people think, as if they are imprisoned in their own house. Realize this fact that our happiness and contentment of heart lies within the time spent with our family and kids. Focus your intention to boost your immunity as well as lifting up your morale and mood so that you can take better care of yourself and your family.  Have faith that this time of pandemic will end soon and we will go back to our normal routine life.
Author Bio
She has been analyst, beauty expert, mom of 2, cook, teacher, content writer, and a reviewer with a passion to have a smart home with her husband. She often tests new things and gadgets that come into the market with the help of her team to review items. When she's not at her computer, you can find her at her kitchen, busy with 2 kids, or maybe on Pinterest @xadiacashif where she likes to share about her lifestyle and work. Alternatively, try her email at xadcash@gmail.com, and she'll probably shoot you back a list of her favorite and latest gizmos.