Are you tired of being stuck in a small living place where you feel that every household item is getting on your nerves and you can't stand the chaotic life anymore? You start to dream about the luxury home so you can have space to calm your mind but at the same time realize that it's almost impossible to find and move to a bigger house with the same limited resources. Research says that a person can be more focused on a minimalist environment because more things around us distract our attention from important matters.
We have got a solution to this problem as by proper organization and some smart minor changes can bring freshness to the same place. Now people seem to be more interested in the minimalist interior than very huge and "obvious" household items. You can create more space within the same area of your living room, kitchen, or backyard with minor modifications in the house. First of all de-clutter your house and get rid of useless things like old newspapers, empty cartons, old utensils, and outdated clothes. Light colors on the wall create a more relax ambiance and give the impression of more space within the same room.
I hope you will find new ideas and will be able to transform your living space into a fresh and minimalist house. Let's get started with the idea of "Less is More".
Which Home organizers you must-have for a more comfy House?
Wall Mounted Floating Shelves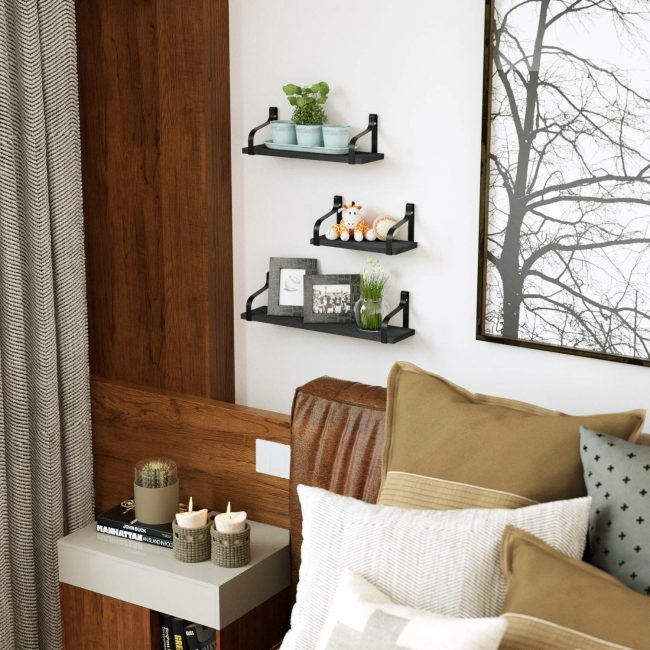 Most of us like to display a collection of monuments and antique figurines on side tables or corner shelves. But due to these ornaments, it takes more time while cleaning and dusting and if you leave them for a while they started to look like a mess more than a piece of decoration. Clear your counter or working table now with easy to install wall mount floating shelves. Give a stunning look too dull plain walls and utilize the vertical space smartly. Arrange them in different patterns for ornaments, figurines, photo frames, or small plants. You can also see wall mounted corner shelves reviews to get more ideas to save the space in your home.0.
Sink Organizer
It is time to take a look at the most important part of the house; Kitchen. Done with dishwashing and clean the countertop now what to do with dishwashing brushes, sponge, kitchen towel, and soap dispenser. Obviously you just cannot leave them near the sink area or mess-up window sill with the junk! A sink caddy can hold all these dishwashing accessories perfectly in it. Either you can go for wall-mounted or countertop caddy in plastic or stainless material. Find peace of mind with a clear and de-cluttered sink area with all tools readily available in best sink organizer for dishwashing.
Over the Sink Dish Drying Rack
There are few plates or bottles that we need often in the kitchen so we have to hand wash those dishes. And it can occupy lots of precious counter space without any drying rack. Over the sink dish drying rack allows quick dry the dishes and keeps the counter safe from watermarks as water drain directly into the sink. These over the sin drying rack can accommodate plates, bowls, cups, and cutting boards in different racks. Limit your dish usage in the kitchen so you don't have to wash tons of plates and glasses. I have tried this trick to pack my extra dishes and save them for occasional use and fewer utensils in my kitchen for daily usage.
 Outdoor Storage Shed
Move on to talk about decluttering the backyard or garage area. There are lots of stuff like a lawnmower, some plumbing tools, and a barbeque grill we usually carelessly throw in the yard. But you can organize all this in the outdoor storage shed and will find them in perfect condition for future use. You can easily install these sheds and can keep all the extra tools, kids' cycles, sports goods, and a swimming pool. Save your goods from severe weather conditions in a safe and organized way.
Learn to live with less! This practice will make your view broad towards life and you will be able to know that sometimes it is necessary to let go of things as well as non-sincere people from your life for good.
Kitchen Cabinet Organizers


You must have small racks, stands, and countertop corner shelves to maintain utilizing the maximum space in the kitchen. No matter the size of the kitchen, if you manage things in special kitchen cabinet organizers, it would be easy to find the item quickly as well as decluttering the pile of container lids, bowls, pots, and utensils.
Narrow Bathroom Trash Cans
If you live in a small apartment then you do not need to buy a large size bathroom trash can. There are many narrow bathroom trash cans available you can place under the sink or on the side of the bathroom seat. You can declutter the bathroom area by placing a cleaning brush and other items in a compact trash can.
Toy Organizer
If you kids, then piles of different types of toys lying here and there in the house seem most annoying. Kids do not know where to place the toys. Teach your kid to organize things from the very childhood. Bring a Toy organizer for kids and keep all things in it.
Shower Caddy
You need to keep a lot of items in your bathroom especially if it is in use of girls. All the beauty items are kept in the washroom. Shampoo, body wash, cleansers, Toner and cleaners, wax, or shaving items. A tension pole or over the door shower caddy is the solution to declutter the bathroom area and manga thing in a corner of the bathroom.
Under The Bed Shoe Organizer
Organizing out season shoes and sandals is tricky if you live in a small apartment. You can hide these shoes in an under the bed shoe organizer. It will save your shoes from dust and debris and also declutter the house area.
Cosmetic Case Organizer
You can not decorate the cosmetic items on the dressing table if you have kids in your home. Keeping cosmetics on dressing not only safe for children but also makes it prone to dust and bacteria. A foldable cosmetic bag is a good idea to organize your makeup and beauty care items in an aesthetic and hygienic way.
Under Garments Organizer
You can fold your clothes and easily organize them in a cupboard. But when it comes to small undergarments items you do not have any specific area to put them in any organized way. As a result, you just throw bras, panties, and belts in a cupboard box. When you need to reuse them, it takes time to find and select from the pile of undergarments. Undergarments organizer is an economical solution to keep each set separate and find easily in a drawer.
Foldable Table and Chair Set
If you don't have kids yet then avoid going for a fancy dining table set for only two people. With a small apartment, you should pick smartly so your living area must not look overcrowded with unnecessary things.  You can enjoy your meals with all the appropriateness with foldable table and chair set yet save the precious space. Unfold the table flaps and sprawl the table cloth, enjoy the mealtime then fold the table and nest the chairs under the table to store in the corner. These sets are ideal for indoor or outdoor use as you can take it to a terrace or patio to enjoy good weather and bring it back easily because most of them have casters to move the table.
Desk Organizer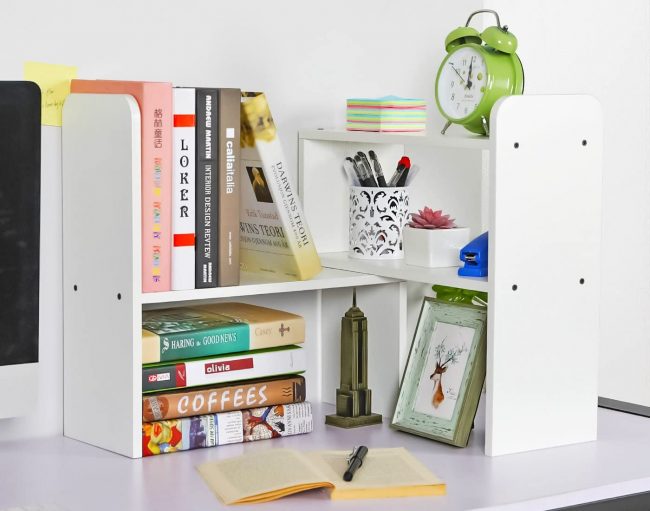 Books, laptops, mobile and chargers of gadgets, diary, and other daily use items make your desk look overloaded. It may distract your attention from the task you are doing. Manage your desk with a very affordable countertop corner shelf organizer for your desk and manage your things easily.
Related Articles:
Author Bio
Rab Deem was born in South Korea and raised in Canada, except for the time when she moved back to Korea and attended high school there. She studied History and Literature at the University of Toronto. After her studies, she joined several saloons and attended many seminars about skin-related issues. She researched chemicals and serums used in beauty products. She began writing her debut article after obsessing over books about the Korean Skincare routines. When she's not writing, she can be found wandering through nature or journaling at a coffee shop. She currently lives in New York with her husband.