I feel contented working in a clutter-free and organized kitchen as a clean environment gives the positive vibes and one can complete the routine tasks efficiently. We used to imagine an ideal magazine kitchen without any utensils or mess on the kitchen counter but real-life kitchens need to be practical that can save time and energy with ease of access to certain things in the kitchen.  There must be some special and unique items so you can proudly display them on the kitchen counter. I personally avoid plastic products for the kitchen but I cannot use glassware as they are fragile and with small kids, glassware seems unrealistic.
But you can bring the magic and twist in the kitchen with stainless steel articles in the form of jars, caddies, trash can, 2 or 3-tier corner shelf. Either you can choose stainless steel products with a mirror look or go for the matte finish.
Why choose stainless steel products for Kitchen?
There are many reasons that you will replace your cheap plastic utensils immediately with stainless steel products.
        Rust-resistant material.
         Blend gracefully with any kitchen theme.
         Looks trendy and stylish.
         Easy to clean.
         No smell.
         Food-grade material.
         Unbreakable.
         Matte-finish products are fingerprint-proof.
         Less prone to fungus and bacterial growth.
I have short-listed some stainless steel products that you can use in your kitchen.  You can upgrade a boring kitchen by swapping the pesky plastic products with stainless steel items.
Stainless steel Sink Caddy
It was a few years back when I used to have a plastic sink caddy with a sponge and brush holder. And I felt gross when I saw the gunk and fungus growing at the base of caddy. Then I replaced the plastic caddy with a stainless steel sink caddy. This caddy looks great and disassembles easily for thorough cleaning.  A stainless steel caddy with open design and multiple compartments keeps scrubbing tools organized, dry, bacteria, and & fungus free and makes dishwashing a breeze.
Stainless steel Kitchen Trash bin
If you have a small kitchen with limited space under the sink area then you need a stainless steel trash bin for the kitchen with a lid to keep smell and flies away from the kitchen. These stylish trash bins look stunning and fulfill the purpose adequately. You can choose a rectangular or round stainless steel trash can with a single or double compartment in different sizes. It feels so convenient when you have smeared hands and only step-on the pedal opens the lid of the trash -can and you dispose-off the waste without touching the basket.  Stainless steel trash bins are a durable and one-time investment that you make and use the product for several years. The bathroom trash can with a lid hide the garbage and gives a good impression of hygiene by preventing smell.
Stainless steel Canister Set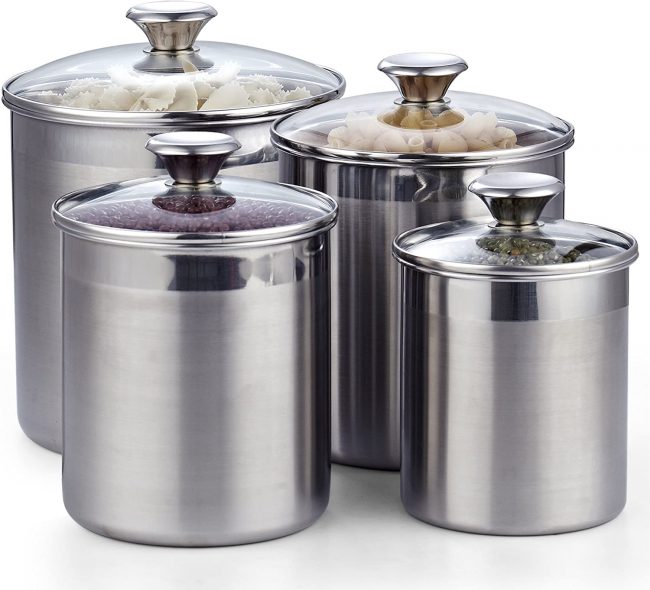 Do you have a large family or small kids who want their favorite snacks after every now and then?
So you need to put these snacks on the kitchen counter in a canister set. The stainless steel jar set looks elegant and gives breathing to a boring countertop. These jars are available in different sizes with either glass or metallic airtight lid to keep edibles fresh. I love stainless jars because they do not retain smell and constrain the growth of the pests if used for rice and flour. You can read full detail in kitchen canisters jars reviews. 
 Cup or Glass stand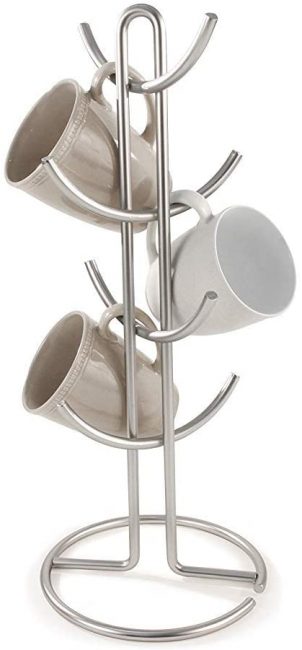 You can choose an open rack design glass or cup stand.  Most stands have the capacity to hold 6 to 8 cups so these racks can be used to dry cups and glass. Use these stainless steel stands for frequently used glass and cups so you don't have to search for the specific cup in different kitchen cabinets. Save your time and energy and get these practical stands for your kitchen corner.
Stainless steel Utensil Holder
I just simply hate to pound through a messy kitchen drawer to find the right cooking spatula or spoon while cooking. So I decided to get a stainless steel utensil holder to keep on the kitchen counter with few utensils in it and this small change saved my time a lot. I like the fact that these utensil holders with a heavy base keep their balance gracefully and tip-resistant and most importantly they are easy to clean with a handle brush.
Stainless steel Kitchen Corner Shelf
If you need extra space on the kitchen counter then you can add vertical space with a stainless steel kitchen corner shelf. You can use this corner shelf as a spice rack or your favorite cutlery set.  These corner shelves look great and add a new dimension to the kitchen counter. I usually like to store baking accessories on it and find all ingredients in place stacked neatly on a corner shelf.
Over the sink Disk dry Rack
For a tidy and clutter-free kitchen sink and shelves you need the best over the sink dish rack that is made of stainless steel. It makes dishwashing a hell lot easier and quicker. Just wash dishes and place them at your arm's length. When you place the dish drying rack in corner of the shelf, it is time taking to first wash and then organize the dishes in the rack to let them dry. For me, it is the most functional item in the kitchen to save space, time, and energy in the kitchen.
Author Bio
She has been analyst, beauty expert, mom of 2, cook, teacher, content writer, and a reviewer with a passion to have a smart home with her husband. She often tests new things and gadgets that come into the market with the help of her team to review items. When she's not at her computer, you can find her at her kitchen, busy with 2 kids, or maybe on Pinterest @xadiacashif where she likes to share about her lifestyle and work. Alternatively, try her email at xadcash@gmail.com, and she'll probably shoot you back a list of her favorite and latest gizmos.