With the advent of the latest cosmetic gadgets, people are relying more on laser treatments for long-lasting effects. Laser treatments are getting popular to deal with facial hair removal, acne scars, or freckle removal. But sometimes all this process needs extra aftercare if you have dry or sensitive skin. Although normal skin feels dry temporarily after each laser session and needs to be moisturized with a quality product. But dry and sensitive skin needs extra after-care to yield the best result of laser treatment for these kinds of skin types.
With aging skin becomes dull due to deficiency of collagen and it leads to the appearance of fine lines. This process triggers early if you ignore to moisturize the skin properly. Hydrated skin feels supple and retains the collagen in it. But in case you have dry and sensitive skin then you must be very cautious in choosing the right skin products to nourish your skin without irritating it.
Since I am pretty much interested in the new arrival of good skin products so I call upon one of my friends who practice as a cosmetic surgeon. She helps me a lot with my good skincare product hunting. Many people ask tones of questions about how to take care of their skin before and after laser treatment. And she got tested with some moisturizing creams for laser-treated skin. As a dermatologist, she recommended different products to consumers and ask them to send their feedback about results. The Ultimate Game-Changing Skincare Addition proved to be with a very mild and gentle ingredient in it and ideal to use for normal to dry skin.
How to Choose Moisturize For Laser Treated Skin
Fragrance-free products are best for laser-treated skinNo added perfumes or dyes could upset cranky skin
The product must have multi- peptides which can reduce fine lines, wrinkles, stimulate collagen and elastin in the skin layer.
No abrasive or harsh ingredient like phenoxyethanol, paraben.
Slightly acidic 5.5 PH to maintain a barrier to face the daily pollution and UV effects adequately.
Beta-Glucan has been shown to have intensive skin repairing and wound healing properties and is a great skin soother and moisturizer.
FORETDERM EGF Peptide Regenerate CICA Cream has the best result and is equally effective to use as a daily lotion to nourish your skin. There was no irritation or greasiness on the skin after using this product and users were happy with their alight and supple skin. This CICA cream is filled with goodness for your skin. Few customers call this product an expensive one but you get what you pay for. So, If you love your skin then you will not look at the price tag because your priority is healthy skin. You can make a list of the above-mentioned ingredients and will be amazed to know that this cream includes all ingredients in it. If you are looking forward to yielding the best result after any skin treatments this cream will gently speed up the healing process.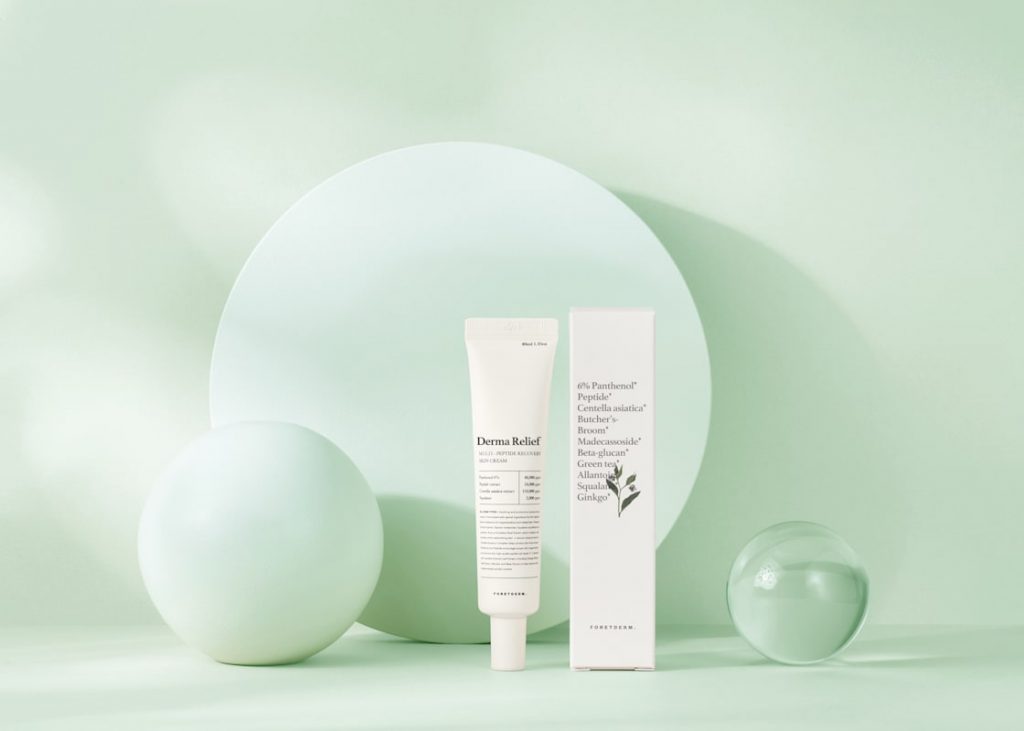 12 Tips To Look After Your Skin after Laser Treatment
In general, treated skin healing in five to 21 days so try to use heavy makeup.
Avoid hot baths and hot showers for 48 hours.
Clean the treated areas two to five times a day with saline or a diluted vinegar solution.
Apply protective skincare treatments that are recommended by your doctor to help your skin heal.
Laser treatments can dry out your skin temporarily. Moisturizing lotion can replace lost moisture and also soothe your skin.
Make sure your skin is clean and completely product-free, don't even moisturize or apply deodorant before treatment.
Avoid anything that involves chlorine (e.g. swimming) for 48 hours.
Do not use anything abrasive like retinol, tretinoin, glycolic or, salicylic acid, or Vitamin C serum over the treated area for 3-5 days.
Cover the lasered skin with Vaseline Immediately after the laser session.
Use cold packs for discomfort and swelling skin.
You can also apply Aloe Vera gel to the treated area as it may be red or swollen.
Do not use active ingredients like alpha hydroxy acids, beta hydroxy acids, or retinol. Also, avoid direct sunlight or UV rays while your skin is healing.
Author Bio
Rab Deem was born in South Korea and raised in Canada, except for the time when she moved back to Korea and attended high school there. She studied History and Literature at the University of Toronto. After her studies, she joined several saloons and attended many seminars about skin-related issues. She researched chemicals and serums used in beauty products. She began writing her debut article after obsessing over books about the Korean Skincare routines. When she's not writing, she can be found wandering through nature or journaling at a coffee shop. She currently lives in New York with her husband.