In 1877, Carlo and Helen were shattered when their daughter was diagnosed with spina bifida. It was considered a pediatric illness that let the child to pediatric physicians into adulthood. The average lifespan of a person with this ailment was 30 to 40 years.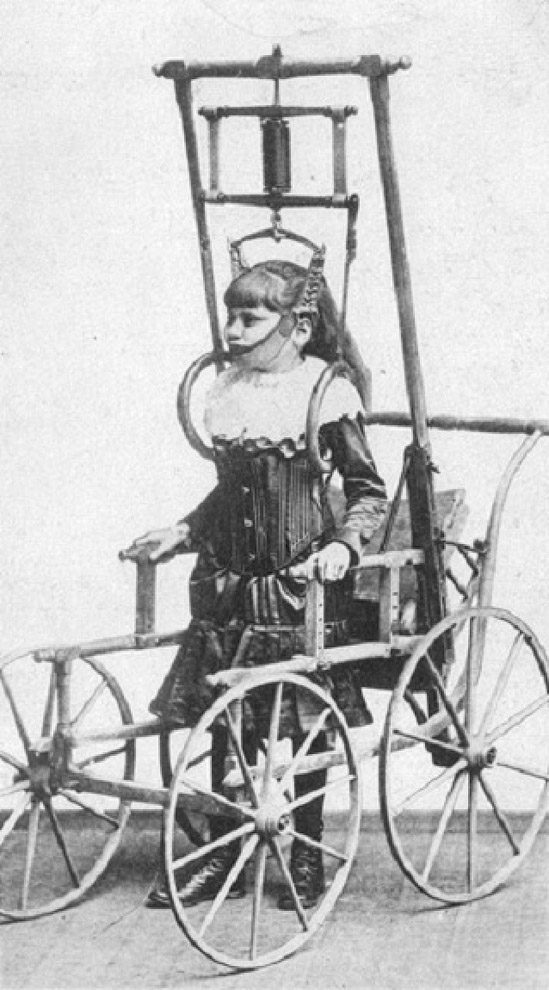 Dr. Clarke's spinal apparatus was advertised in 1878 as a device that allowed people with back problems to walk for several minutes – or even hours – a day. In reality, the wooden frame on this intimidating device was so heavy that even a healthy person was unable to take a couple of steps, let alone patients with a diseased spin.
Could you imagine how painful it was before when there was no medical advancement? Parents and kids used to suffer and live pitiful life with scary and bulky medical devices like iron lungs, polio devices, and Clarke's spinal apparatus.
Evolution and Advancement in Medical Equipment and Supplies 
Once the children would have died with congenital heart conditions now can be treated with mechanical heart valves, pacemakers, devices that close holes in the heart, and artificial tubes used to bypass malformed heart valves.
The advancement of biomedical, engineering, and public health has significantly changed the situation. Medical equipment like syringes, intravenous infusion equipment, and infant-sized catheters have saved the lives of countless children by helping in boosting immunity, antibiotic therapy, and in other areas of pediatric health care.
Some infants use much smaller and compact mechanical ventilators and other supporting respiratory devices for a time being but other babies with chronic illness use these types of devices for years.
Now Children and families can take benefit of advanced medical supplies. Timely access to quality medical supplies can prevent premature death and can significantly improve the quality of life of children. Being a parent, you can better take care of your special needs kid at home by organizing the medical supplies efficiently.
Tips to store medical supplies in a kid's room
=>First of all categories the medical supplies in 6 sections; electronic, diagnostic, surgical, durable medical equipment (DME), acute care, and storage and transport and make a list of the number and size of the containers you need.
=>Use one large closet to store all medical supplies for your kid. You can customize the closet with pull-out bins, drawers, and shelves.
=>Label each box neatly so that you can quickly access them when you need them. Also, transparent boxes let you alert when supplies need to restock.
=>Try to hide most of the medical supplies that you use frequently in the closet upper shelves or space under the kid's bed so that kid's room does not look like a hospital. A house room with lots of medicines and medical instruments and supplies leaves a bad impression overall.
=>You can install a side stand or corner shower caddy to organize the thing that you use on daily basis like hand sanitizer, nebulizing machine, BP checker, dressing supplies, and medicines.
=>If you think that bottles and containers and other medical supplies get dusty then you can use disinfectant wipes to clean them all.
=>A rolling cart with labeled drawers also works best because you can use it when need and hide it in the storeroom or in the child's room corner when not in use.
=>If you have an infant or small baby that needs medical assistant then you can use a diaper caddy to store and organize medical supplies and can attach the caddy with the crib.
=>To store small devices like thermometers, medical tape, syringes makeup organizer boxes are also one of the good options.
=>To store and organize, it is also essential to check the supplies daily and weekly basis so that you and your child do not have to suffer in emergency situations.
Handling a special needs child that dependant on technology is not easy but when you compare your current situation with the situation of kids and parents in the '70s, '80s, and more previous decades. You will surely be thankful not to have that kind of horrible medical equipment and supplies. With the hope that one day you and your kid would be living an independent life, you can better take care of your child with more enthusiasm and dedication.
Author Bio
She has been analyst, beauty expert, mom of 2, cook, teacher, content writer, and a reviewer with a passion to have a smart home with her husband. She often tests new things and gadgets that come into the market with the help of her team to review items. When she's not at her computer, you can find her at her kitchen, busy with 2 kids, or maybe on Pinterest @xadiacashif where she likes to share about her lifestyle and work. Alternatively, try her email at xadcash@gmail.com, and she'll probably shoot you back a list of her favorite and latest gizmos.