Parenting is not easy as it seems, it is full of challenges especially for the new parents. Diaper blowout is a nightmare for every parent. And it is hard to clean that entire poop spread out on baby's back, bottom, and pretty much everywhere. Infants tend to poop more frequent than some week or month old babies. It can be a moment of awkwardness if you are out and about. A baby spends most of her time wearing diapers from infancy to toddlerhood so you should be careful regarding diaper things because a little mishap can be turned into a big trauma. There is not a single reason for blowouts and leaks and there are so many things to consider but having a little know-how about these things can prevent diaper blowouts and leaks.
Appropriate diaper size:
Choosing inappropriate diaper size is one of the most important reasons for blowouts and leaks, giving your baby a wrong size diaper can result in a huge mess. The diaper shouldn't be too large or too small because a small diaper will just absorb pee but it can't handle solid because there is not enough room for poop to come out and will result in a huge disaster and can create a rash in your baby's body while in the other hand large size of the diaper can result in frequent leakage because it doesn't fit baby well. Choosing the right size of the diaper is key to avoid blowouts and leaks.
 Put on the diaper correctly:
Once you are done with the right size of diaper for your baby, make sure you have put on the diaper correctly on your baby, pulled up to the belly button, the leg ruffles pulled out, and the tabs fastened straight and snug and you should be able to fit one finger between the baby's waist and the diaper, and the baby's legs and the diaper cuffs. Be cautious and put on the diaper rightly to avoid blowout and leaks.
The brand with the best features: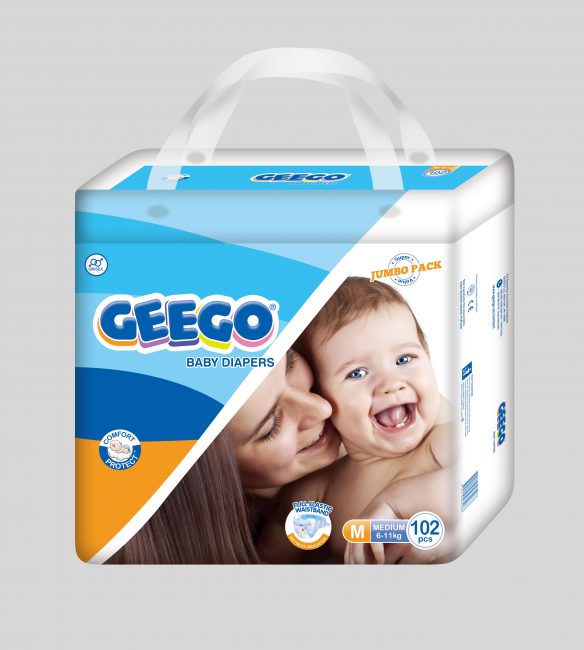 Babies are soft and sensitive. Choose a brand that cares about the baby's skin and has the best features.  There are so many diaper brands in the market but all the diapers are not the same. The basic design of most diaper is the same but this is not enough, the first thing to watch about the diaper is its absorbency, elastic technology on the back and the side of the legs. Some diaper brands do not produce elastic on the back, some have poor design and some have low absorbent quality.
Use disposable diaper:
There are two types of diapers. One is a reusable or cloth diaper and the other is a disposable diaper. Motherhood is a full-time job and with the baby, a mother is always short of time. Using a cloth diaper can create more hassle as it is not absorbent at all and can cause leakage and it needs to change time by time, washing clothes that are ruin by cloth diaper is a next level trauma on the other hand a disposable diaper has the high absorbent quality that can easily avoid blowouts and leakages. It does not need to change every hour.
 Monitor baby's routine:
Change your baby's diapers at regular intervals so there is never prolonged exposure to a wet or soiled diaper. Check your baby's diaper in the morning, after feeding, after a nap, and every 2 to 3 hours to see if it needs a change.
To avoid diaper blowouts and leaks. A good diaper recommendation
Geego Baby Diapers
A good diaper must have the above-mentioned qualities so the baby can be comfortable and cheerful at the same time and Geego baby diapers are an excellent choice to avoid blowouts and leakages. Their products boast of high-tech absorbent technology, leak-proof barriers, and leak shields. They make mama-hood stress free with their best range of babies' skincare products and diapers.
Related Articles:
Best Toddler Utensils For Self Feeding Review 2020
Best Learner Sippy Cup 6 months- 2 years Breastfeeding Babies Reviews
Top 5 Best Toddler Table and Chairs set under $50
Author Bio
She has been analyst, beauty expert, mom of 2, cook, teacher, content writer, and a reviewer with a passion to have a smart home with her husband. She often tests new things and gadgets that come into the market with the help of her team to review items. When she's not at her computer, you can find her at her kitchen, busy with 2 kids, or maybe on Pinterest @xadiacashif where she likes to share about her lifestyle and work. Alternatively, try her email at xadcash@gmail.com, and she'll probably shoot you back a list of her favorite and latest gizmos.