How to keep your household items safe with pets at home? 
Pets are adorable and some of us cannot imagine living without them. Pets are part of the family as we used to spend most of our time with them inside the home. Like many other pet lovers, I do have a cat and a big furry dog to keep my routine more alive at home. They are part of my life and love to keep them close all the time. But there are few things that used to bother me a lot and felt like giving upon them. Because most of the time they messed up with kitchen garbage or scrapping marks on my favorite furniture. Then I bring minor changes in my house to keep my pets inside the home without hesitation. If you own a pet then you will definitely find some practical ideas to save your household items safe from naughty pets.
Sofa Scram
If you have fancy and expensive furniture in your drawing room or living room, you want it desperately to save it from pets. Because pets scratch the sofa covers, sectionals, and bed mattress. If pets do not have a habit of scratching, then pets' hair may ruin the furniture.  Sofa scram sonic is the device that prevents a pet from sitting on a sofa by emitting an 85-decibel beep. The great thing about it does not hurt the pet with any shock. This beep is annoying for a pet and pets to prefer to sit on the ground rather than a sofa. Sofa scram is a mat that you can use on the sofa. The mat gets activated with the slight touch of a pet paw and emits a sound to repel the pet to sit in that area. It is an affordable and excellent training mat as well. First, you need to turn it on with a battery. When pets get used to it, then simply place the mat on sofas without turning it on, and pets do not sit on the sofa.
Trash can with lid
Cats and dogs are famous for their smell sense. But it became a problem when my cat and dog started to sniff and mess up with kitchen garbage. No matter how tight I knot the garbage bag they tear the plastic bag and l used to find my kitchen in total chaos. Then I replace my usual trash can  with my best bathroom garbage can with a lid. This lid trash can not only pet-proof in the sense that it has a special odor absorbent filter in it but also looks very chic in my kitchen. Now I feel more fresh air in my kitchen and my pets don't know the secret of this trash can.
Pet odor Eliminator
Exposure to ammonia present in pet urine can cause lung and eye damage. Pet urine and feces can produce bacteria and level bad impressions on people live in-home or any guest. Professional carpet cleaning from pet accidents is very high. I found a very effective pet odor cleaner with an amazing smell. It restricts a pet to pee or poo again as well. I have suggested this pet odor eliminator to all my friends having pets. It is best to train your pet to use potty training pads to avoid such kinds of pet accidents.
Carpet cleaner for Pets
A heavy-duty, affordable, and portable spot carpet cleaner is a must-have if you have pets in your house. Dogs love to lick the sofas, sectionals, and couch that leave watermarks on them. If they pee it is really very difficult to remove the stains and smell. Bissell carpet spot cleaner is a small size device that you can easily move at the time of pet or kid's accidents. You can also use it in the car.
Pet Proof Furniture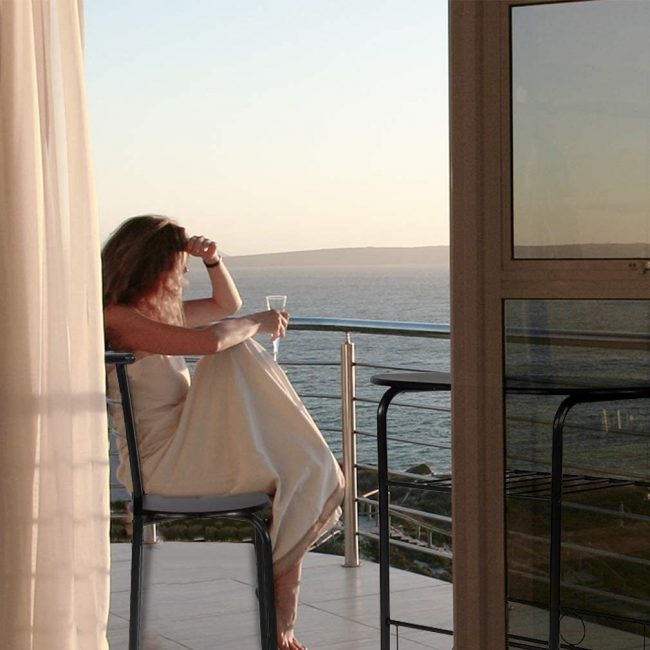 I like to have my morning and evening coffee in my terrace area for the best view of sunrise and sunset. And my pets seem to love this view by spending their time in the fresh air. I used to have a faux leather chair and table that my family friend presented us at my wedding. But my cat started to claw on the seat of the chair so I thought to buy a metallic table and chair set as it will stand harsh sun and rain gracefully without tearing. Most importantly my cat cannot scrape the metallic table and chair. And I can confidently leave my table and chairs for my cat and dog to enjoy their mutual time together.
Pet Gate
If you are doing the cooking in the kitchen, or vacuuming your house for a special purpose, or taking care of a newborn or you have guests in your house. It is best to restrict a pet in some housing area with a pet gate. Indoor or outdoor pet gate train the pet to not wander in the whole house. Pet gate saves a lot of energy and makes your to-do list easy in the presence of a pet in the house.
Pet-proof slip sofa cover
My cat and dog always struggle to find their place sofa and it never bothers me at all. Then I found that either the dog or scrabble on the arm of the sofa with their sharp nails but thank God that my sofa has thick upholstery fabric and did not tear apart. It was summer afternoon when I saw a straying cat inside my house and before I did something, the cat urinated on my lounge sofa and ran away. And it was enough for me so  I thought to quit upon my pets as they might also do the same and I cannot afford to change the furniture every now and then. So one of my told me about the plastic sofa cover and I was amazed by the idea to use a plastic transparent sofa protector. I immediately got this sofa cover to save my sofa from routine spills and keep the pets from scrapping on it. Definitely, this cover proved as a game-changer for my precious furniture.
Pet Proof Bedsheets
Cotton or satin bed sheets do not catch the pet hair so I did not realize the actual problem of my husband's skin allergy due to pet dander. When I started to use the microfiber bed sheets for extra warmth during the winter season. Usually, they catch the pet hair and stick to the plush even after machine wash. On my colleague's recommendation, I found the soft and hypoallergenic microfiber sheet that provide comfort during cold nights, and pet hair comes off easily. My pet is free to visit my bedroom and enjoy the morning cuddles in bed.
Pet Bed
A study that infants, toddlers, and elderly people can be sick if pets slip in their beds. If a pet has a habit to sleep with an owner. There are chances they will try to do the same with other family members. Moreover, pets disturb sleep and you may feel get uncomfortable.
That is why I have trained my pet not to sleep with any family member. To comfort a pet, I have bought a pet bed that is cozy and train my dog to always sleep in his own place. The best things about this pet bed are machine washable and quickly gets dry.
Related Articles:
Author Bio
She has been analyst, beauty expert, mom of 2, cook, teacher, content writer, and a reviewer with a passion to have a smart home with her husband. She often tests new things and gadgets that come into the market with the help of her team to review items. When she's not at her computer, you can find her at her kitchen, busy with 2 kids, or maybe on Pinterest @xadiacashif where she likes to share about her lifestyle and work. Alternatively, try her email at xadcash@gmail.com, and she'll probably shoot you back a list of her favorite and latest gizmos.